Recently, the no-makeup-makeup look has been trending. The secret to achieving this look without using heavy makeup is to mix jojoba oil with your foundation and concentrate only on areas that need a little extra coverage.
3 Key Components for the Perfect Dewy Look
Many associate the word "dewy" with "oily", but in fact, they are completely different. If you have oily skin, your skin will become noticeably shiny and dull-looking after a long day. However, if you have dewy skin, your skin will appear supple, glowing, and smooth.
To achieve the perfect dewy look, you need to understand these three key components:
Moisturized Skin: To nail the dewy makeup look, your skin needs to be healthy and hydrated from the inside. When your skin is healthy and well-balanced, it will not be too oily or dull. One tip is to use a face mask or massage jojoba oil into your skin before applying makeup to lock in the moisture.
 
Glowing Skin: Opt for cosmetics that give you a glowy look, such as a hydrating foundation. Mix your foundation with a little bit of jojoba oil, or apply a highlighter to your cheekbones and nose bridge to create a luminous effect on your skin.
 
Non-oily Skin: Dewy does not mean oily! Don't forget to powder your T-zone areas where your skin tends to be shinier to prevent your dewy makeup from turning greasy.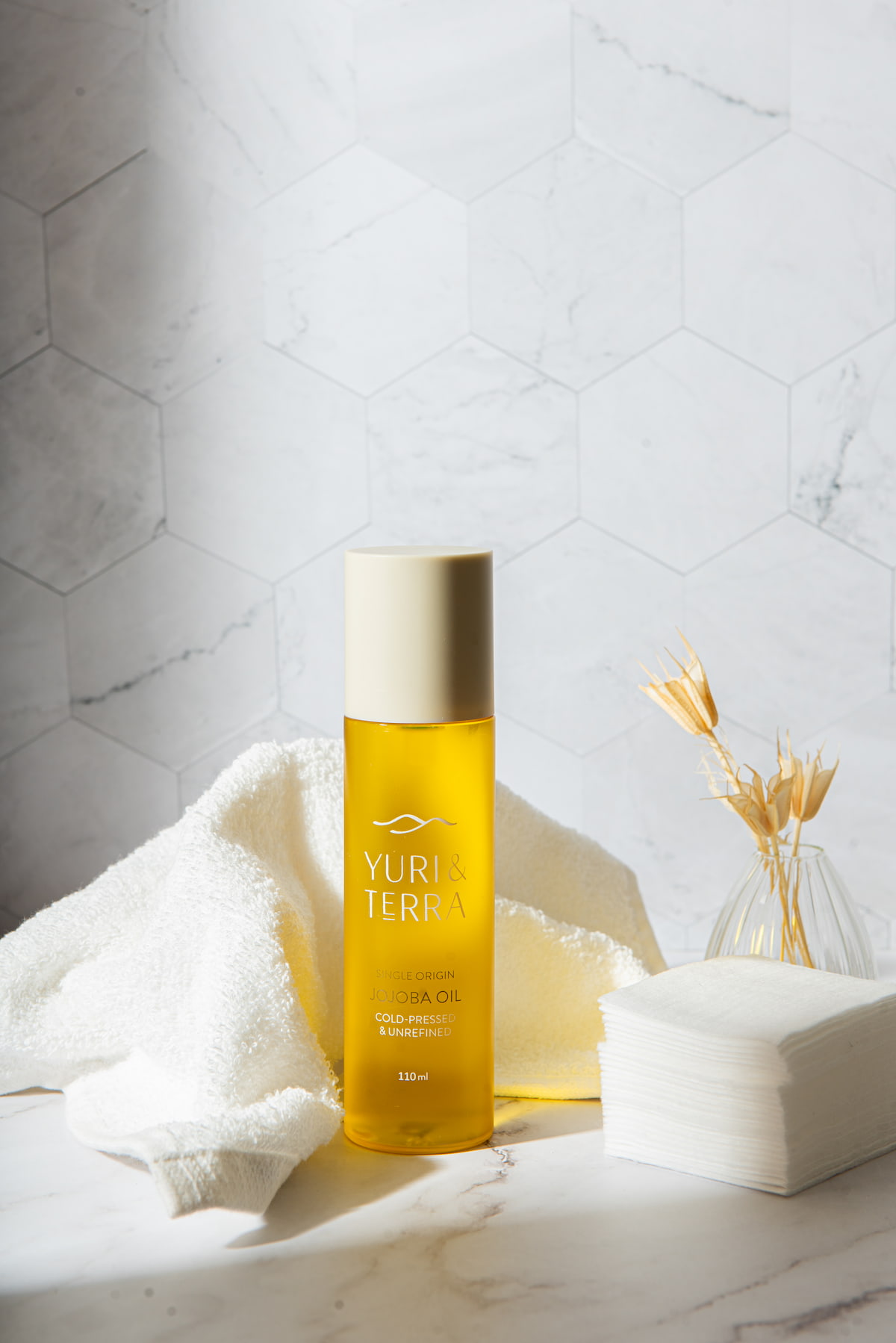 How to Mix Jojoba Oil with Foundation for More Natural Look
Which face oil to choose?
Everyone has different preferences when it comes to face oils. However, if you want to mix it into foundation, we recommend choosing a more lightweight oil that closely mimics the sebum naturally produced by skin and hair, such as jojoba oil, which is easily absorbed into your skin without becoming too greasy.
How to mix and apply
There are two ways to mix foundation and face oil:
Directly mix jojoba oil with liquid foundation and use your fingers or preferred tools to apply the foundation. The recommended amount is 1-3 drops of jojoba oil for the whole face, though the amount can be adjusted depending on your skin type and coverage needed. If you want a more glowy look, you can add more drops to your foundation. This will not only thin out the foundation, but it's also better for your skin.
 
Use face oil as a primer by directly applying a thin layer of jojoba oil on certain areas that need more moisture, and avoid T-zone areas to prevent your makeup from looking too shiny. Then, apply foundation as usual.
Which tools to use
Many believe that applying foundation by hand is the best way to adjust the heaviness of your application. However, if you are worried that your makeup might appear patchy or uneven, you can use other tools to apply your face oil and foundation combination.
Makeup sponge: Dampening a makeup sponge with water before applying foundation will help create a smooth but not-too-cakey look. Different sponges are suitable for different applications depending on your skin type and preference. If you do not need high coverage, an oval or square sponge will provide a lighter makeup look as it is not as dense as a puff sponge or silicone sponge. It also makes it easier to spread liquid foundation with its pointed sides.
 
Brush: Makeup brushes can apply foundation faster and more thoroughly, although they may leave behind some bristles. Whether you prefer natural brush fibers made from animal hair or synthetic brush fibers, the first things to consider are the softness, fineness, and whether they will irritate your skin. As for the shape, it is advisable to choose a dome shape or any other not too dense shape. Because although a brush with dense bristles can provide a high level of coverage, your foundation may become cakey if you're not skilled enough at applying it!
Tips: Gradually apply  foundation little by little. There's no need to spread it over your whole face at once. Reapply or use concealer on areas that need more coverage.
In addition to achieving a natural makeup look, mixing a liquid foundation with a lightweight oil like jojoba oil can help nourish your skin. Jojoba oil contains nutritious fatty acids, including omega-6 and -9, Palmitic, Palmitoleic, Stearic, Oleic and Arachidic acids, and vitamin E and B-complex. It helps lock in moisture and strengthen your skin barrier, giving you beautiful glowing skin from the inside out.